New feature in irPanel
Changes in irPanel Pro/Lite 1.7.1
We change the write permission code (it was set from the permission device head device) from this version. We had to change it because it was generated by deprecated API. Please clear it by developer tool or the ladder programming if you set write permission code.
We fix MITSUBISHI FX3U's X and Y devices did not correspond correctly.
Changes in irPanel Lite 1.5.5
It can connect to the PLCs 10 minutes in a day without purchasing an add-on item. Try to connect to the PLCs.
Changes in irPanel Pro 1.5.4
New supported PLCs

OMRON C200H series via Plc Share

OMRON CJ series is also able to connect via Plc Share.
To use these function, please download latest Plc Share.
Changes in irPanel 1.5
The Logging function
If you enable the logging property of monitor values, it record the value of devices when the trigger device is ON.
You can get the data through iTunes or send by email.
New supported PLCs

MITSUBISHI

L Series
AnS Series(Using AJ71E71)

YOKOGAWA

Bug fixed

Sometimes it make unexpected connection when the Auto Retry is enabled.
New feature in irPanel 1.4.7
For FX3U(C) and KV-10 series:
PlcShare is no longer necessary.
You can make connection through a Serial-Ethernet converter.
So you don't need the PC anymore.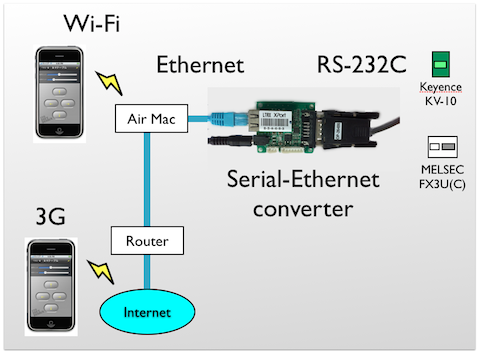 New feature in irPanel 1.4.5
New supported PLCs.
- Keyence: KV-5500
- OMRON: CJ1 series

It's possible to connect to the PLC through 3G network.
(You have to setup the router, etc...)

irPanel Lite 1.4.4 was released
Added a new panel pattern. Added a retry connection setting to Settings apps.

irPanel Lite 1.4.2 was released
irPanel Lite was released!
There are Add-on items for each PLC provider.
If you bought an item, it can connect to you selected provider's PLCs.
More details visit here.

New feature in irPanel 1.4.1
New supported PLCs
OMRON
- CJ2H series
- CJ2M series
New feature in irPanel 1.4.0