Output
It available version 1.0.0 or select
"Tab style 1.0.0"
.
How To Use
It shows a list of devices when the "Output" button is pushed. It's similar to the "Input" view, but it has the ON/OFF buttons. You can switch devices on/off with these buttons.

A device can be switched off when it's active.
On the contrary, it can be switched on when it's off.

Please note that input only devices or devices controlled by some PLC software won't be changed by pushing buttons while they are working (It depends on the PLC's feature).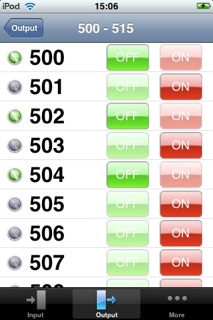 For safety, only one iPhone/iPod touch can accept manipulations at a time. When the other iPhone/iPod touch has the permission, ON/OFF buttons would be inactive.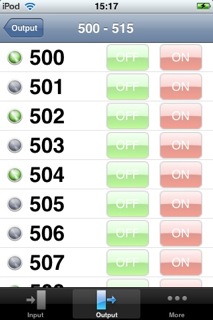 To activate ON/OFF buttons, release the permission on the other iPhone/iPod touch first, then set it on the one. See the instruction in More to set the permission for manipulation.